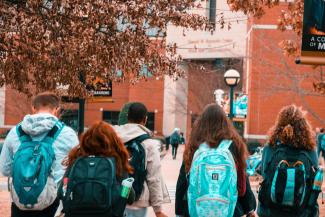 Top 5 Considerations When Saving for College
Two parents were talking one day, when one asked the other what their son was taking in college.  The parent responded: "He's taking every penny I have!"  While saving for college can be overwhelming and stressful, being aware of some key considerations can help calm these feelings and keep some of those pennies in parent's pockets. 
Estimating Costs
Estimating the cost of college can be one of the most challenging aspects of planning.  Historically, the increases in college costs have outpaced the national inflation rate, ranging from 3-5% annually. 
On top of that, you will want to think about the total cost of attendance, which goes beyond the tuition "sticker price."   Other costs include books, supplies, room and board, transportation, and general living expenses, such as food. According to the College Board's 2021-2022 Trends in College Pricing Report, the average annual cost of attendance at a four-year public college for in-state students is $27,330 ($44,150 for out-of-state), and $55,800 at a four-year private college.
Defining Your Savings Goal and Budget
To plan how much to save, you should spend time defining your target savings goal – do you want to save for 100% of total costs?  Do you want to target a certain dollar amount or specific college?   Next, evaluate your timeline to assess how much you'd need to save and determine if it is in your budget.   Parents should also remember that if they are simultaneously trying to save for retirement, they should first determine what they need to meet their retirement goals, and then layer in saving for college after that.
Evaluating Savings Vehicles
While there are many options for savings accounts, some of the most common include: 529 savings plans, Coverdell ESAs, custodial accounts, brokerage accounts, and retirement plans.  When weighing your options, be sure to consider key factors such as: a) Tax implications (state income tax benefit, penalties); b) Impact on financial aid (certain account types or ownership structure may have different effects on eligibility); c) Flexibility (transferability to a different beneficiary, accessibility of funds in case of an emergency).
Exploring Supplemental Assistance
It's never too early to work with a financial aid counselor and explore your options as it pertains to need vs. merit-based aid and the FAFSA process.  There are certain strategies that he or she may recommend unique to your situation that can help position your assets and income in a way that enhances your aid eligibility, such as using cash to make large purchases the year before the child begins college. 
Utilize an online search to apply for scholarships (you might be surprised by the number of scholarships out there!).  And remember that borrowing is an option as well. 
Thinking Outside the Box
Be creative when thinking of ways to reduce the cost of and/or pay for college!  Some examples are:
Taking Advanced Placement (AP) classes and/or community college classes while in high school to earn college credit
Trade schools
Military institutions or ROTC programs
Community college for the first 2 years
Living at home
Availability of work-study jobs on campus or other student-job opportunities
Attending an international university
Defer enrollment for a year
Accelerated 3-year programs
Parents' utilizing in-service distributions from a deferred compensation plan
Utilizing a home equity line of credit
Parents purchase an investment property for child to live in instead of incurring a college room and board expense

---
Securities offered through LPL Financial, Member FINRA/SIPC. Investment advice offered through WCG Wealth Advisors, a registered investment advisor. WCG Wealth Advisors and The Wealth Consulting Group are separate entities from LPL Financial.
The opinions voiced in this material are for general information only and are not intended to provide specific advice or recommendations for any individual.